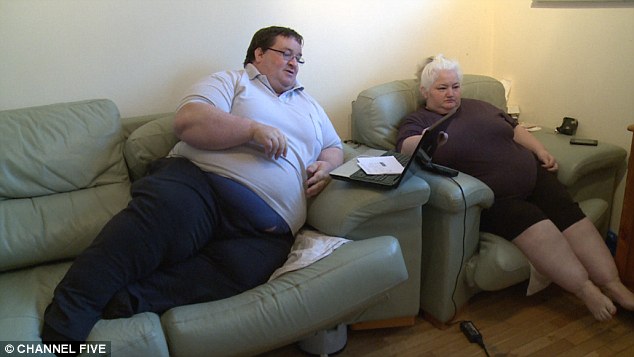 With a combined weight of 54st, they say they are 'too fat to work'.
But that did not stop Stephen Beer, 45, and wife Michelle, 43, being able to splash out £3,000 on their wedding – as the bill was footed by the taxpayer.
The couple's big day – which saw £1,000 spent on catering, including £450 for their favourite kebab takeaway for the evening buffet – was funded almost entirely from benefits.
Mr Beer, who was marrying for the sixth time, weighs 31st and had to have a suit specially made for the occasion.
By contrast his 23st wife became a bride for the first time and wore a white gown for the registry office ceremony and church blessing that followed.
Their 50 guests were treated to a three-course meal at the reception, followed later by the buffet.
The groom, who suffers from type 2 diabetes, hypertension and other problems linked to his weight, had a blood clot on the lung and instead of a honeymoon he spent nine days in hospital.
He can only stand for a limited period before becoming breathless and his wife said the wedding day trip to hospital was no surprise. Mrs Beer, who has not had a job during her adult life, said: 'I reckon Stephen will be on benefits for most of his life.'
Mr Beer used to run a cleaning business and had to give up work six years ago following a stroke.
Interviewed about his benefits on the documentary, he said: 'Is it right? Of course not. But at the end of the day I did work. I have worked, I haven't sat on my a*** all the time.
'I have done some work and so really, why not?'
via Too Fat To Work couple who weigh 54 stone between them claim £2,000 a month in benefits | Daily Mail Online.