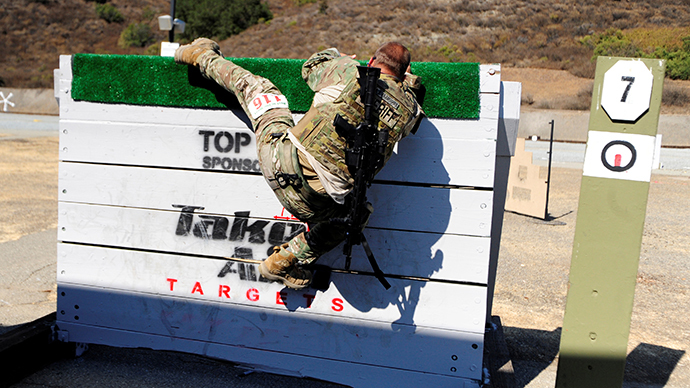 Military personnel are increasingly turning to liposuction in order to pass the Pentagon's body fat test in an effort to maintain future prospects amid a budget-cutting environment.
US service members say that the test used by the Defense Department measures the neck and waist to estimate body fat, which can easily weed out muscular or bulky physiques in addition to flabbier ones.
The Pentagon's "tape test" uses neck and waist measurements instead of the body mass index, which is based on one's height and weight and is widely used by civilian physicians.
Thus, many are turning to liposuction for quick results. The practice is not banned by the Defense Department, though the military does not condone surgery in order to pass the test.
Amid a spike in obesity rates in the US, the amount of Army soldiers kicked out of the ranks for being overweight has likewise gone up tenfold in the past five years from 168 in 2008 to 1,815. The amount nearly doubled in the Marine Corps, from 102 in 2010 to 186 in 2011, though it dipped to 132 in 2012.
The Air Force and Navy do not track discharges from the test.
"They come in panicked about being kicked out or getting a demerit that will hurt their chances at a promotion," Rockville, Md., surgeon Adam Tattelbaum told the AP.
Fitness experts agree with military personnel, that the military's standards should be reviewed given that their outdated weight tables do not reflect the bigger, though no less healthy, size of Americans today.
Jeffrey Stout, a sports science professor at the University of Central Florida, said the tape test takes into account the body's shape, not its composition such as body fat or fat-to-muscle ratio.
"I wouldn't want my career decided on that," he told the AP.
He recommends using callipers to measure the thickness of skin over various parts of a body.
"That way these guys are not hurt by a bad measurement," said Stout of the more reliable method.
The Pentagon maintains its test ensures members are ready for combat, and that very few who exceed body fat limits do well on fitness tests.
"We want everybody to succeed," said Bill Moore, director of the Navys Physical Readiness Program. "This isnt an organization that trains them and says, `Hey, get the heck out."
Military officials claim the tape test is still the most reliable, cost-effective tool available, and that the method has a margin of error of less than 1 percent.
The Air Force is the only branch to modify its fitness program. In October, it obtained a Pentagon waiver for airmen who fail the tape test but excel in physical fitness exams that can use the body mass index.
Any service member who fails the test is ordered to spend months in a special exercise and nutrition program, derisively nicknamed the "pork chop platoon" or "doughnut brigade" by Marines. Even if a member later passes the test, failing once can hinder promotion for years. Failing three times is grounds for forced dismissal.
One Honolulu surgeon told the AP his military clientele has gone up 30 percent since 2011, with around six service members coming per month.
"They have to worry about their careers," former solider Dr. Michael Pasquale said. "With the military downsizing, its putting more pressure on these guys."
Some military personnel will work to increase neck size so it is in proportion with a large waist. Though Pasquale said liposuction works for others with varied genetics.
"Ive actually had commanders recommend it to their troops," Pasquale said. "Theyll deny that if you ask them. But they know some people are in really good shape and unfortunately are just built wrong."
The military insurance program will cover liposuction if medically necessary, though not if it's considered cosmetic, as is the case if the procedure is used to pass the tape test.
Fat Thanks to Dave H. for the tip!
US military personnel increasingly choosing liposuction to beat body fat tests — RT USA